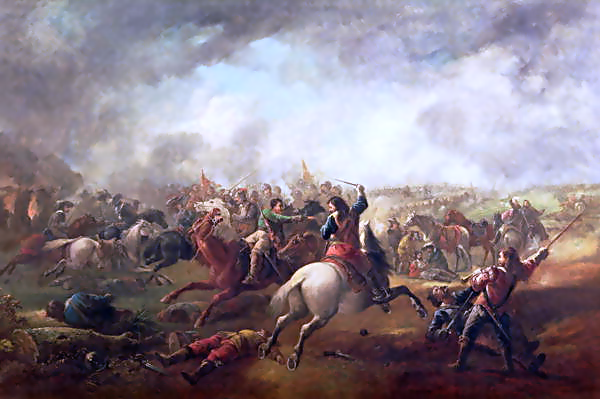 Here is a short story from My Haunted Life 3 – out now on Kindle…..
My Dad told me this creepy story several times when I was growing up. His childhood wasn't so great and so he liked to escape at weekends or whenever he could. His best friend, Jack, and he, loved to cycle, camp and hike around East Yorkshire and that's what they did just anytime they could. It was the years directly after the war and there was little traffic or other people to bother them.
One night, they pitched their small two-man tent in a farmer's field near Long Marston. They knew very well that, in the vicinity, many years ago, a battle had taken place there during the English Civil war – The battle of Marston Moor. It was partly why they were there as they both had a love of history as well as the outdoors.
They retired as dusk came as they were heading back in the morning and needed to get up early to allow sufficient time for the trip. Cycling all day is tiring and so they had no problems sleeping.
Around 1am, a hand shaking his shoulder woke my Dad up. It was pitch black. As he awoke he heard Jack's voice,
"Nev, Nev, do you hear that?"
Dad listened and to his amazement he could hear the thudding of horses galloping, men shouting and screaming and the clash of steel on steel. This was taking place in a thunderstorm and was accompanied by the sound of rain, thunder and huge flashes of lightening. He was horrified.
The two of them sat in the dark listening to what he described as a cacophony of battle sounds all around their little tent in the field. They dare not move. They dare not look outside the tent. They simply sat there wide-eyed with cold sweat dribbling down their icy cold necks listening to the sounds of a Civil War battle in a thunderstorm going on around them.
As soon as dawn began to break, the sounds faded. They got up, skipped breakfast, and got out of there as soon as they could. The field was totally empty when they finally summed up the courage to leave the tent.
The experience obviously had a big impact on him because he would often tell my brothers and I the tale of the night the Battle of Marston Moor took place. I think what had shocked him more was that, when checking up on the battle years later, he discovered that it did actually take place in a thunderstorm.
If you enjoyed this, why not buy one of the My Haunted Life series? Or, if you would like to write a review of one of these books on Amazon, I will gift you the book (provided you agree to sign up to my mailing list and promise to write the review!). You can buy one of these Amazon supernatural hits below;